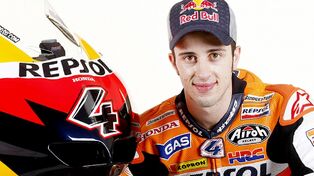 The 125cc 2004 World Champ. Dovi is a rider who came up in every class with Lorenzo.
Andrea Dovizioso starts his third campaign as a Honda factory team rider in 2011, and since his introduction to the premier class in 2008 (when he rode a satellite Honda and placed fifth overall) the Italian has proven himself to be a capable challenger to the leading riders of the elite category. A victory (Donington 2009) and seven podiums throughout the 2010 campaign have been signposts of Dovizioso's constant improvement, one which he will be determined to take a step further in 2011 whilst on the same team as two riders he will view as rivals to his ambition; Dani Pedrosa and Casey Stoner.
The former 125cc World Champion (2004) and twice 250cc runner-up (2006 and 2007) has been a consistent top-five challenger during his premier class tenure, and in 2011 will certainly be one of the riders expected to make an impact at the top end of the World Championship
Ad blocker interference detected!
Wikia is a free-to-use site that makes money from advertising. We have a modified experience for viewers using ad blockers

Wikia is not accessible if you've made further modifications. Remove the custom ad blocker rule(s) and the page will load as expected.