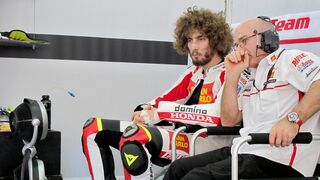 &nbsp

Simonchelli got his first premier class podium at the chech rep this year (2011)
Marco Simoncelli's debut season in MotoGP in 2010 was an impressive display of progress for the Italian, who by the end of the campaign was pushing for the podium. In 2011 he will continue his quest to climb the premier class order with the San Carlo Honda Gresini team, having ended his first year in a respectable eighth overall and with a best result of fourth in Portugal.
Indeed Simoncelli had arrived in the premier class as a former 250cc World Champion, a title he took in 2008 and one which he battled closely for but just missed out on defending in 2009 before making the graduation to MotoGP. This year he will be teamed with former 250cc rival Hiroshi Aoyama on the Gresini team, with the aim of regularly fighting for the podium a realistic target.
Ad blocker interference detected!
Wikia is a free-to-use site that makes money from advertising. We have a modified experience for viewers using ad blockers

Wikia is not accessible if you've made further modifications. Remove the custom ad blocker rule(s) and the page will load as expected.